The Income tool allows you to document the incoming money flow, issue invoices, issue credit and debit notes. Using this tool, you can generate invoices based on user-defined templates. The generated invoices can be branded with company logos and have unique layout based on your needs. In addition the data can be easily exported in XML or JSON format for import into third party tools. It contains all fields necessary for creating a valid inovice. The tool is inegrated by default with modules "Products" and "Services" and it calculates the total amounts of the income items automatically. The Income tool provides an advanced search functionality which allows you to produce relevant to your business reports based on predefined criteria.
Setting up your company details
In order to use the Income tool you will need to fill in your company details in the "Companies" module. The latter can be found in the HR module "Our companies" button.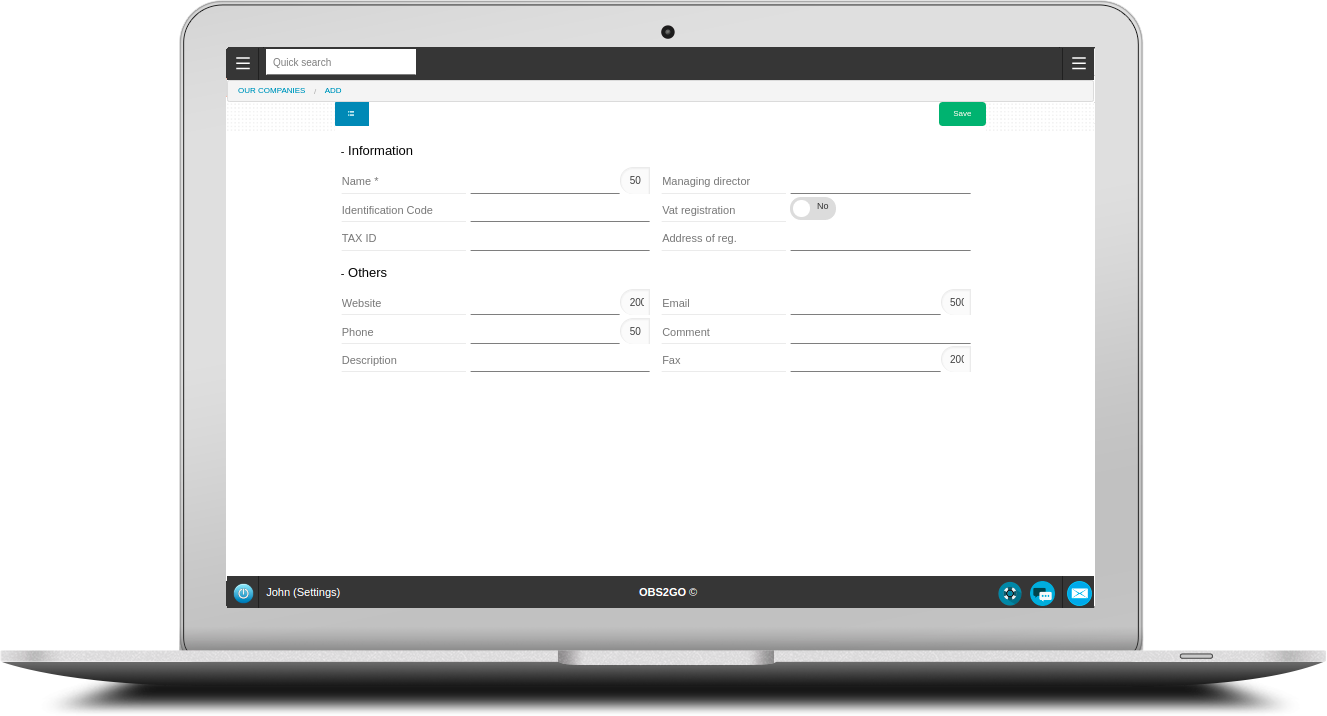 Please note the field "First invoice #". It designates the number that will be assigned to the first generated invoice. After you set an initial invoice number you need to press the "Reset Invoice Sequence" button to apply the changes.
Creating an income record

It is easy. Navigate to the Income tool, click the "Add" button and fill in the mandatory data. Press the green "Save" button above the form and insert the line items as shown below: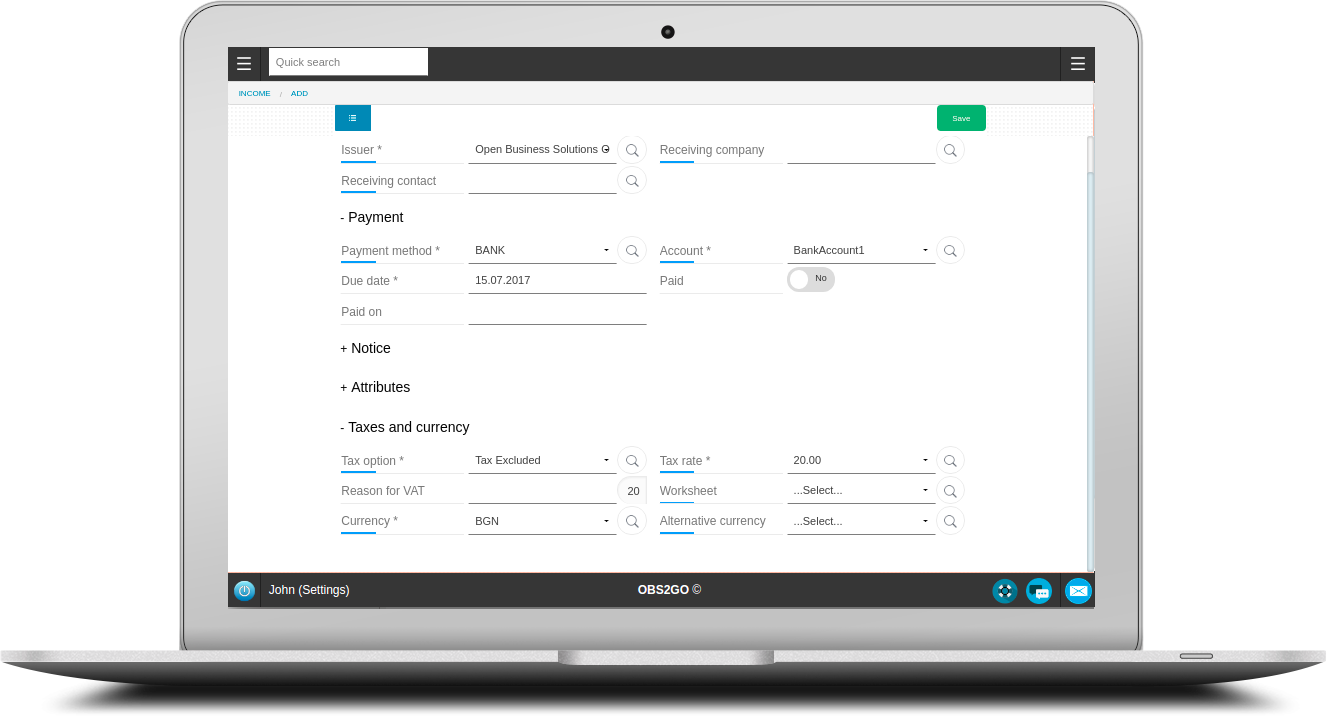 Please note that some of the field names are colored in blue. For example: Issuer, Company, Payment Method. You can click on them to create a related record on the fly, without the need of navigating out of the Income tool.
Line Items can be found below the insertion form: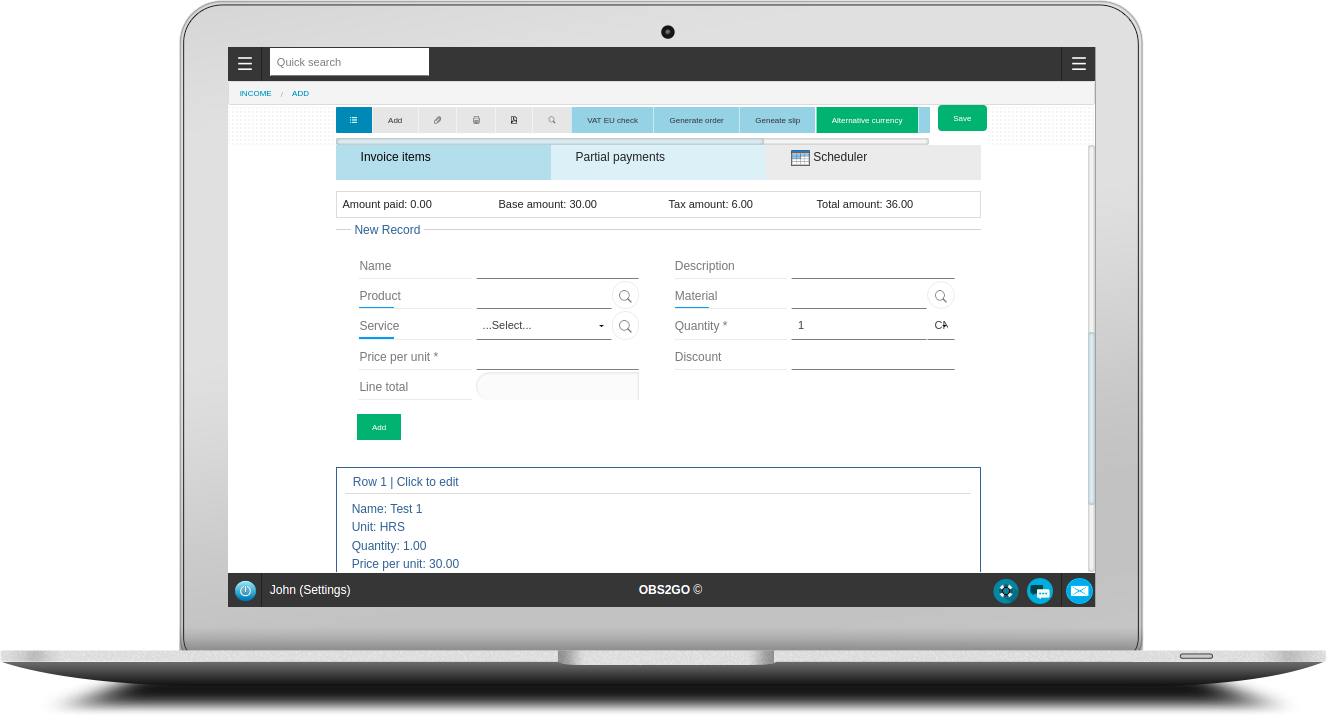 The drop down lists "Product" and "Service" are populated with information taken from the "Warehouse" module. The units of measure can be modified in the "Lookups" -> "Units" section. Same applies for the "Currency" dropdown list.
In order to insert a new line item you will need to fill in the mandatory fields and press the green "Save" button below the line item. The total amounts will be calculated automatically.
Taxes
Three tax options are available:
- Tax Exempt
- Tax included
- Tax excluded

The total amounts will be calculated accordingly based on the selection of the tax option.


Marking income as paid
You need to complete the "Paid On" and activate "Paid" button in order to mark an income as paid


Partial Payments
You can track partial payments by using the "Payments" button next to "Line items".
Generating an unique seqeuential invoice number
By default the created document is a "proforma" invoice. You need to press the "Generate Invoice" button in order to produce an invoice. Pressing this button will assign the next available invoice number to the invoice document.
Business Intelligence


























Reports


















Configuring an invoice template
Please review the "Templates" section of the documentation